Valentine's Day Burlap Wreath
One of the best ways to set the expectations of visitors to your home is by decorating the main entrance of your house, especially if it is seen from the street. I often tell my real estate clients that a buyer knows whether or not he or she likes a house within the first 10 seconds of walking into your home. Even if you aren't walking into a home to potentially purchase, it's nice to see an owner take the time to make the entrance look and feel inviting. I, like most people I know, enjoy a small door hanger or wreath that welcomes people or celebrates whatever holiday is upon us. I, like most people I know, also have a lot of door hangers and wreaths that I often never know what to do with once the holiday is over. So it got me thinking, what about a burlap wreath that is reusable? Reusable as in, you'll literally only need a gallon size plastic bag to store a yearlong amount of items used on the wreath. Since Valentine's Day is upon us, I started my "collection" of small decorations with hearts and flowers. Every item on this wreath is pinned in and can easily be pulled out. You could easily swap out hearts and flowers with shamrocks for Saint Patrick's Day or some faux baby's breath and tulle for springtime. The best part, with every holiday or season this wreath makes it easy to decorate and again, set the tone for guests!
Supplies (all purchased at Michaels Craft Store):
Foam Wreath (I purchased 10 inch)
Scissors that can cut burlap and wire
Faux roses
Felt hearts
Burlap
Sewing pins
Thumb Tacks
Ribbon for a bow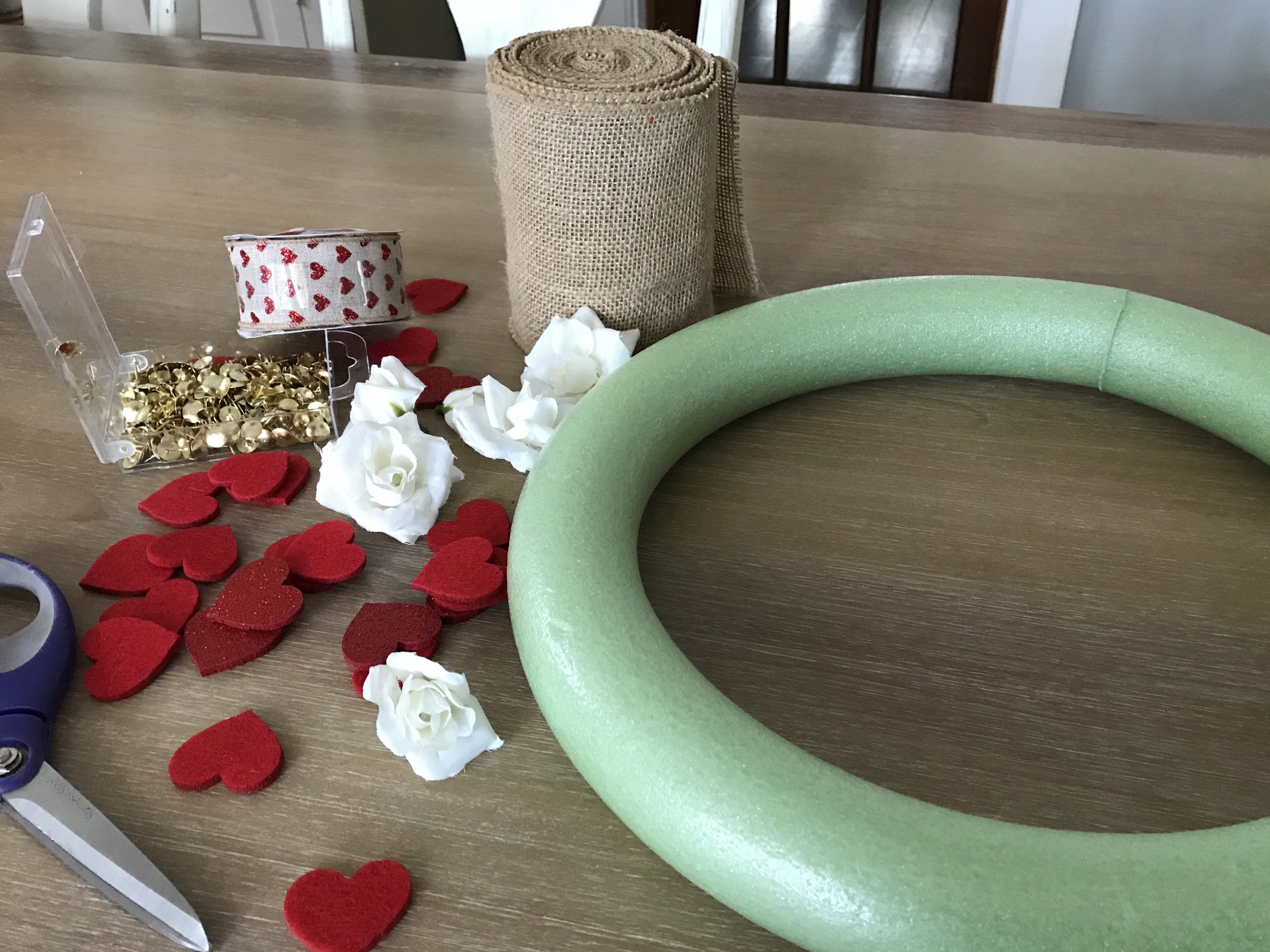 1. First begin by wrapping the burlap around the wreath. Pull it tight so the burlap is not to lose. I did one layer, you could easily double up if you'd like.
2. Using thumb tacks pin in the end of your burlap to the bottom of the wreath.
3. Pull the flowers and/or whatever additional decorations of your liking and begin to pin them into the wreath. You'll need to use sewing pins for this. And don't worry about pushing them in far, just enough to hold everything in place and easy to pull out for your next set of decorations. What I'm really excited about with this wreath is there is literally no way to make a mistake. No glue is involved so get creative! Add loads of flowers or be a minimalist, you can't make a mistake! The pins make everything on this wreath easily removable. Add or edit as you like! And remember, you can easily store decorations in a gallon size bag. I think it's time for me to toss all my old wreaths and door hanger, since this might be the only thing I'll ever use!
Thanks for reading!
Best,
GG
xo